TARC App Update AVAILABLE NOW!

New TARC App Updates!
AVAILABLE NOW!
Thanks to customer feedback, a new TARC App update for YOUR mobile phone-both Apple and Android-is now available.
Current updates include fixes for all past bugs, seamless integration with Bird scooters, Uber & Lyft, and an improved "favorite trips" save feature.
Update now or download from your app store today (See full list of recent updates below)!
APPLE
Verison: 3.0.13 (released August 28, 2019)
Real-time schedules added
Verison: 3.0.12 (released August 17, 2019)
iOS beta update support for App
Verison: 3.0.11 (released August 11, 2019)
Show / hide password functionality added
"TARC Alerts" integration
General Performance Enhancements
Resolved Crash Issues
Improved Real-Time locator (Weekdays & Weekends)
Resolved delay with Lyft, Bird Integration
Schedules pull from Apple Map
Lyft & Uber Trip Cost viewable in App
Dashboard redesign
ANDROID
Version: 1.54 (released August 27, 2019)
Real-time route based alerts icon/notification
Real-time schedules added
Version: 1.53 (released August 12, 2019)
News & Alerts page added
Resolved Crash Issues
Improved Bus Location GIF animation
Resolved Email Contact support
Improved "favorite trips" feature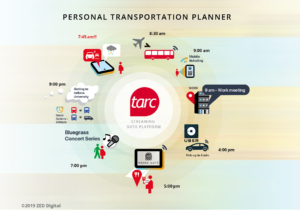 Louisville, KY (May 17, 2019): TARC is leading the nation in offering Mobility as a Service (MaaS) with the official launch of their new Mobility App (available now in the app store) and Dynamic Trip Planner on their newly redesigned website ( ridetarc.org ).
TARC's new integrated mobility platform enables customers to seamlessly plan trips across multiple modes of travel including TARC, Uber, Lyft, Bird Scooters and LouVelo Bike Share. Rather than having to locate, and book each mode of individual travel separately, MaaS platforms let customers plan and book their trip from A to B (door-to-door), all in one place.
"This app positions TARC as a leader in MaaS, enabling our transformation from a public transit agency to an integrated mobility solutions provider," said Ferdinand L. Risco Jr., TARC Executive Director, "This is a streaming service data platform. In addition to the various mobility modes available to choose from, the app will also stream activities, entertainment, landmarks and parking availability in the Greater Louisville region, all in real-time."
"A major distinguishing factor of ZED's MaaS platform that powers the TARC app is that this is the first of its kind to provide analytics and real-time data on system usage, origins and detinations of trips per mode of travel, transportation cost savings to riders from app usage and more," said Sumithra Jagannath, ZED Digital President.
"LouVelo is looking forward to teaming up with TARC and the MaaS mobile team to increase alternative transportation options for our service areas," said Mathew Glaser, LouVelo General Manager.
As TARC continues to roll out updates to the platform customer feedback is always welcome and can be submitted directly through the app or sent to info@ridetarc.org.
The next phase of the platform, coming later this year, will include real time parking availability and an added integrated payment solution allowing customers to pay for their full trip, across all platforms from within the TARC app.