Approved August 2020 Service Changes
Approved August 2020 Service Changes
Creating efficiencies and better aligning service with ridership
Approved August Changes (System Map)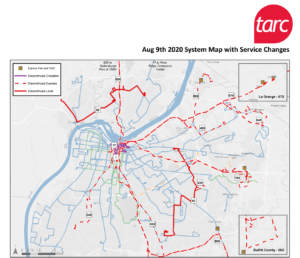 Approved August Changes (Downtown Circulators)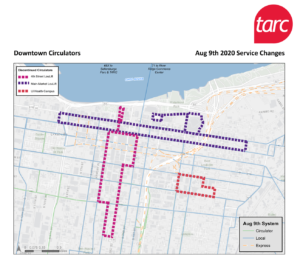 Held Public Meetings (materials)
View the Public Meeting Slide Presentation
View the Pre-Recorded Public Meeting
A detailed proposal regarding changes to take effect in August 2020 was presented to the TARC Board at the April 2020 Board meeting. Changes included the elimination of inefficient, low performing local and express bus routes with low ridership and high cost per boarding. The proposal also included the removal of duplicated non-revenue service in the downtown area. The above maps show what changes were approved and will take effect beginning August 2020.
In the long-term, this approved service adjustment will prepare TARC for future service restructuring, and will significantly improve service performance and efficiency.
Service Change Analysis
All routes proposed for elimination have low performance, historically low ridership and a high, unsustainable cost per rider.
The approved changes present a major service adjustment for the TARC system, with some potential direct or indirect impact on ridership and the community. Some of the routes fully or partially operate through areas with a higher percentage of low-income and minority populations. The approved changes were designed to have as little impact as possible on TARC riders, and there are ample alternate routes available within a ¼ mile walkable distance.
Alternative routes or park and ride lots are also available in the service areas eliminated, and will provide some level of mitigation for the loss of direct service.
Public Participation Process
In accordance with TARC's Public Participation Policy, TARC has solicited public comments on the proposed route changes through various channels of communication and through two virtual public meetings (see above) held on May 13th and May 18th, 2020. All public comments have been reviewed and public input considered before presenting to the Board for final consideration and approval.
The public has been solicited to comment through a news release–widely distributed to the media, local elected officials, as well as neighborhoods and community organizations. TARC also solicited comments through TARC's website, our Customer Service phone line, and social media outlets Twitter and Facebook. The public was able to provide comment to TARC at any time via phone, email, letters and social media platforms.
TARC will continue monitoring ridership and any potential impact on all TARC customers, with a strong focus on our minority and low income passengers. Any potential concerns related to these changes will be mitigated as needed through other routes, or schedule adjustments.