TARC Celebrates National Dump the Pump Day, Free 7 Day Passes Handed Out Through Downtown
TARC Celebrates National Dump the Pump Day,
Free 7 Day Passes Handed Out Through Downtown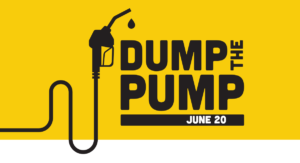 LOUISVILLE, Ky. (June 19, 2019) — This Thursday, June 20th will mark the 14th annual National Dump the Pump Day, celebrated by over 155 transit systems across the country with the goal of lowering dependence on cars, reducing the cities overall carbon footprint and increasing the use of public transit.
"This is a great opportunity for our car-dependent residents to try alternate modes of travel," said Ferdinand L. Risco Jr., TARC Executive Director, "We encourage everyone to park their car, download the new TARC app and move through the city with our new multi-modal service."
Today, June 19th TARC employees will be moving throughout downtown Louisville on foot, scooter, bicycle, and bus encouraging residents to try new modes of travelling throughout the region, thanking current customers and welcoming new ones by handing out free 7 day passes.
Download TARC's new mobility app, available now in the App and Play store (just search "TARC").
DUMP THE PUMP FACTS
Those in a two-person household can save an average of $10,160 annually by downsizing to one car and using public transit instead
For every $1 invested in public transportation, $4 is generated in economic returns for communities
Property near public transportation retains value 42% better than other areas