TARC Appoints Randy Frantz as New Assistant Executive Director
TARC Appoints Randy Frantz as New Assistant Executive Director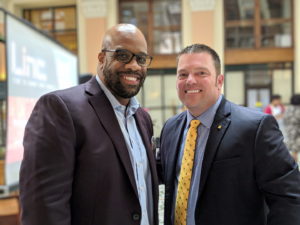 Louisville, KY (June 26, 2019) – After a nationwide search—yielding candidates from as far away as Florida and Connecticut—Randy Frantz, a Louisville native and long-time community asset, has been selected as the new Assistant Executive Director of TARC.
"With his many years of strategic leadership, and a talented background in transportation management Mr. Frantz will be a valuable addition to the executive team," said Ferdinand L. Risco Jr., TARC Executive Director, "His skills will be a great compliment to both our current goals and the future direction of our organization."
Frantz most recently served as Director of Transportation for Jefferson County Public Schools (JCPS), where he was responsible for 1300 employees, 2100 routes, and a fleet of 1200 buses serving 24.5 MM passengers each year; he was also in charge of the District's Vehicle Maintenance and Fleet Program.
"TARC serves as a workforce and economic development engine for Louisville, a city I care about deeply," said Randy Frantz, TARC Assistant Executive Director, "I am excited to be a part of its continued growth and forward thinking transformation."
Prior to joining JCPS, Randy spent several years with General Electric Appliances and Oil & Gas where he held managerial positions in Distribution, Transportation, Sales, Sourcing and Customer Service.
The position of TARC Assistant Executive Director serves as second in command to the Executive Director (Ferdinand L. Risco Jr.). They assist in the planning, organizing, and administration of all TARC activities and functions. They provide support and build relationships with stakeholders and the public, oversee operations, assist with development of both short & long-range plans, and assist in the development and enforcement of rules, regulations and policies.
Randy is also a Leadership Louisville Class of 2019 graduate. As well as a member of the Board of Directors for Family Scholar House.
Frantz will join the team on July 15th of this year.