TARC Provides Connection from Dixie to Downtown with Bus Rapid Transit (BRT)
TARC Provides Connection from Dixie to Downtown with Bus Rapid Transit (BRT)

Louisville, KY (September 4, 2019) – The $35 million project to improve the safety and security of the Dixie Highway corridor will soon reach into downtown, w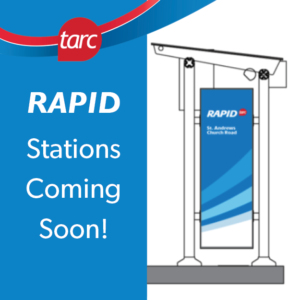 ith the placement of six new RAPID bus stations.
Work on these stations has now started. Lane closures will be necessary in places for about a week's duration. For up-to-date information on lane closures, please follow The Louisville Downtown Partnership, which issues regular traffic alerts on downtown traffic.
A significant part of The New Dixie Highway project is a new Bus Rapid Transit Line, called the RAPID. It's the first BRT line in the region. The RAPID will offer improved bus service along one of TARC's busiest corridors served by existing Route 18.
New RAPID stations, which will also be used by other bus routes, will be installed starting this month along the entire route. The RAPID will run from near the Gene Snyder, all the way up Dixie Highway to Broadway, then into downtown.
The six downtown stops will be:
Ninth and Muhammad Ali – NB
Ninth and Muhammad Ali – SB
Market and Ninth – NB
Market at Sixth – EB
Market at Second – EB
Jefferson at Sixth – WB
Lane closures will be in place while concrete pad and other concrete work is installed to support the new improved TARC service at BRT stops and stations. The actual bus shelters will also be installed starting this month, but that work will take place on the sidewalk and will have little direct impact on traffic.
In addition to the RAPID, The New Dixie Highway Project is adding medians, sidewalks, crosswalks, and improved traffic signals along the Dixie Highway corridor. Much of the construction work has been concentrated in a four mile stretch from Shively, south.
The New Dixie Highway Project broke ground in December of 2017, and all the major components will be complete in December 2019. Final surfacing and landscaping are slated for the spring and summer of 2020.
About The New Dixie Highway Project
The New Dixie Highway Project is a $36 million investment to improve safety, mobility and livability along the corridor. The project will concentrate on three major areas of improvement:
Roadway safety and design improvements, including raised medians and left-hand-only turn lanes along the most congested and dangerous section (Crums Lane to Greenwood Road).
A new Intelligent Transportation System that will improve and coordinate traffic signal timing along the entire corridor.
The region's first TARC bus rapid transit route, with eight priority buses and 37 highly visible bus stations and stops that will improve travel times for both transit riders and drivers.