TARC Seeking Public Comment on Proposed Route Changes
TARC Seeking Public Comment on Proposed Route Changes
Changes would create efficiencies and better align services with actual ridership
Scheduled Public Meetings
For best results, please download Zoom prior to the start of the meeting.
May 13th, starts at 5:30 PM (This meeting has concluded)
May 18th starts at noon (This meeting has concluded)
View the Public Meeting Slide Presentation
View the Pre-Recorded Public Meeting
Phase A: Proposed Changes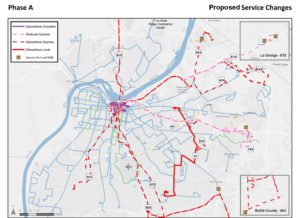 Phase B: Proposed Changes
(*Please note, Route 22 is no longer a part of potential service changes)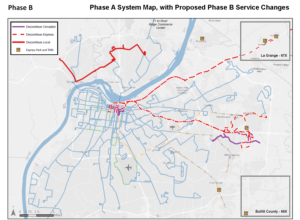 Phase C: Proposed Changes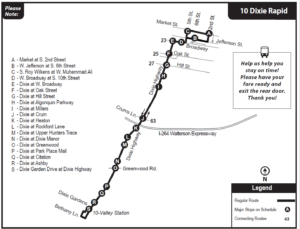 LOUISVILLE, KY. (April 29, 2020) —TARC is seeking the community's input on proposed route changes designed to better align its services with actual ridership and create efficiencies amid a challenging budget climate.
"A huge majority of TARC riders (97 percent) use barely half of its current routes – a fact that existed prior to the current COVID-19 pandemic," said TARC Co-Executive Director Margaret Handmaker. "With almost half of our routes being little used by the community, these proposed changes reflect TARC's strategy to invest where our passengers are."
Laura Douglas, TARC's Co-Executive Director, said the proposed changes are meant also to better manage resources in a challenging budget climate.
"In some parts of our community, TARC's cost per rider is approximately $2.50; on other, less-frequently used routes, it nears $60 per rider. When TARC charges just $1.75 per trip, this is unsustainable and drains resources from where they are needed most," Douglas said.  "TARC does not want to merely move people around; we want a high level of service."
TARC is seeking the public's input on three phases of potential service adjustments. The first, Phase A, would start on Aug. 9, 2020, and the others would be phased in as needed to achieve a sustainable financial standing.
Phase A: Proposed changes include discontinuing the LouLift circulators (routes 01 & 77), local route 62, circulator 96, and all express routes (except 61X, 67X, & 78X).
TARC Local routes 17, 31 and 40 all operate a limited number of express trips in the morning and afternoon peak.  There are no changes proposed to these routes or their related express trips.
Phase B: Proposed changes include discontinuing local route 82, remaining express routes (exceptions from Phase A), circulators 52 and 75, and local route 22.
Phase C: Proposed changes include temporary frequency adjustments to the Dixie Rapid BRT (route 10). However, BRT service frequency will remain at 15 minutes weekdays, from 6 a.m. to 7 p.m.
TARC's leadership and staff are reviewing the proposals to avoid creating a disproportionate burden on specific passenger groups and is developing a federally required Title VI evaluation to address any potential impacts on low-income and minority populations. This evaluation will be released to the public pursuant to Board approval of any changes.
Because of social distancing restrictions in place due to COVID-19, public comment meetings on the proposed changes will take place online. Public comments also may be submitted by email to PublicComment@ridetarc.org.