TARC Seeking Public Comment on Route 20 (Riverport Circulator) Discontinuation *Update: Proposal to discontinue Route 20 Approved*
TARC Seeking Public Comment on Route 20 (Riverport Circulator) Discontinuation
*Update: Proposal Approved. Route 20 will discontinue service August 9th*
Public Comment Period

Monday, July 6 through Tuesday, July 14
Route 20 (Riverport Circulator)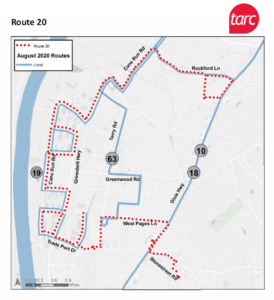 LOUISVILLE, KY. (June 22, 2020)-TARC is notifying the public and seeking comment on the discontinuation of the Riverport Circulator (Route 20)—operated with limited funds through a CMAQ (Congestion Mitigation and Air Quality) grant awarded to TARC by KYTC (Kentucky  Transportation Cabinet).
The Riverport Circulator serving the Riverport area, JCTC Southwest, Park Place Mall and the Greenbelt Market Center was funded through a CMAQ grant, awarded to TARC in 2017 for a limited three years of service. Due to grant funding expiration and its consistently low ridership, the circulator will discontinue service on August 9th, 2020.
"This circulator route was designed to increase access to public transit in the Riverport area," said Aida Copic, TARC Director of Planning. "While the funds to operate this route have run out, TARC will continue to serve this area with several alternate routes in the southwestern part of the community, including the recently implemented Bus Rapid Transit (BRT) along Dixie Highway."
Alternate routes available in this area include Route 10 (Dixie BRT), 18 (the Dixie Highway corridor), 19 (Muhammad Ali Blvd), and 63 (Crums Ln). Additionally, the Riverport Employment Center will continue to be served on weekdays by Route #19 for both morning and evening trips.
Public Comments Accepted: July 6th to July 14th
To allow for public review prior to the public comment period, detailed information concerning this change will also be displayed in the Union Station (1000 West Broadway) lobby on Monday, July 6. Comments regarding this change may be submitted in person at Union Station, by phone at 502-585-1234 (TARC Customer Service) or by email to PublicComment@ridetarc.org.
*Update: Proposal Approved. Route 20 will discontinue service August 9th*