Working for TARC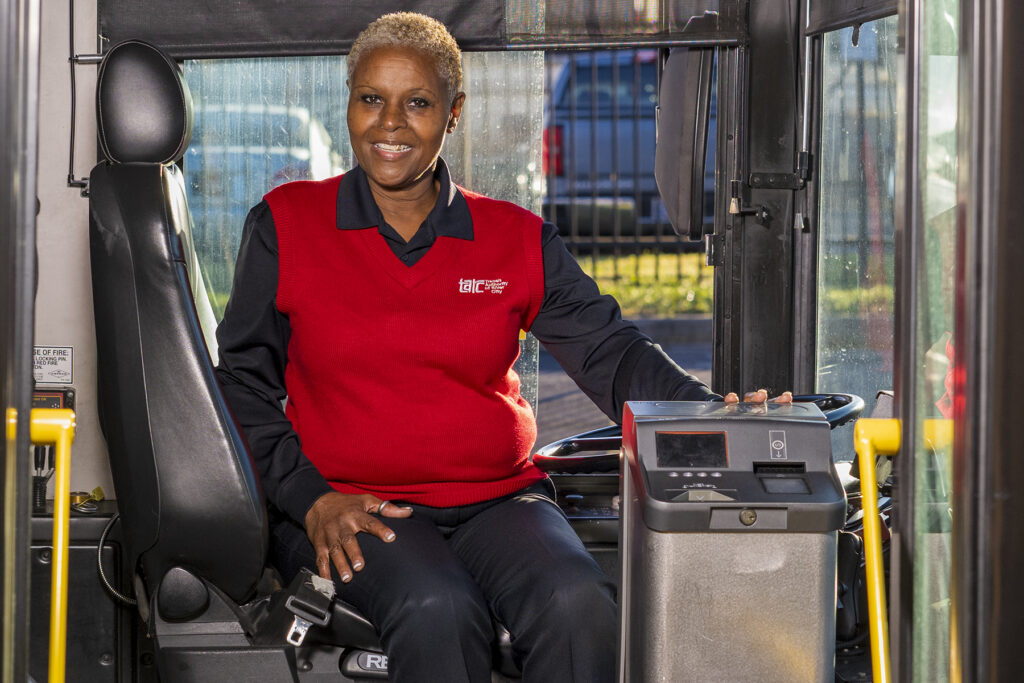 Join TARC and begin Your Journey to a Great Career
At TARC, we explore and implement opportunities in transportation for all, enhancing the social, economic and environmental well-being of the Greater Louisville Community. We are here to ensure that no matter who it is, what they have or where they live, every individual has the ability to get where they need to be – whether that is to a job, to a classroom, or to a ball game.
TARC is funded through federal, state and local support. Public transportation reduces traffic, helps the environment, and is the safest mode of transportation. Approximately 4.8 million individuals ride TARC every year. For many, TARC is their sole means of transportation.
We are looking for enthusiastic individuals who want to help us get people where they need to go. We are looking for staff who are dedicated to making Louisville a more accessible place to live and work. If that is you, apply now. 
TARC is an Equal Opportunity Employer, committed to EEO for persons, regardless of race, color, national origin, sex, creed age, or disability to create and maintain a qualified and diverse workforce.
AVAILABLE POSITIONS
To View all Open Positions, click here.
Maintenance
Mechanics and Mechanics Helpers

$24.25 to $26.30 starting hourly rate
Paid training for Class B CDL permit

Hostler (Bus Cleaner)

$22.97 starting hourly rate
Full benefits package and opportunity for advancement
Transportation
Coach Operators

$18.29 starting hourly rate and up to $26 per hour
Paid training to obtain a Commercial Driver's License (CDL)

Radio Operators
PAY AND BENEFITS
It's true . . . some companies may pay you more per hour up front. However, in many cases, many positions, including coach operators and mechanics, can get as much overtime as they want, with some making more than $125,000 a year.
Plus, TARC offers benefits that other companies can't match. The average cost of benefits for each employee at TARC is valued at approximately $14,000 annually or $6.73 per hour. They include:
Health insurance plans starting as low as $36 a month, beginning the first day of the month after you are hired.
Affordable plans to insure your family including Health, Dental, Eye, Health Savings Accounts and Flexible Savings Accounts.
Free life insurance, and supplemental life and accidental death insurance for less than $12 a month.
One of the few remaining company pension plans, with TARC contributing more than 25 percent of your salary monthly and in which you are fully vested after five years of employment.
Paid holidays, vacation time and sick leave.
On-site fitness center.
Employee Assistance Program with free assessment and counseling for you and your family members.
Free transportation aboard all TARC vehicles to anywhere the route goes.
Depending on your position, you could receive a uniform allowance or a tool allowance.
INVESTING IN OUR PEOPLE FOR THE LONG HAUL
We want you to continue to grow and learn so TARC offers college tuition reimbursement for careers in the transit, administrative and related fields.
Also, we reward longevity. After twenty years of service, health insurance coverage is available for life, whether you work here or not.
TARC wants you to enjoy your life. After 27 years of service, you can retire with full benefits, so start when you 18 and retire when you are 45.
Plus, local and national opportunities abound to grow professionally so employees can continue to sharpen their skills and gain expertise in their field.
THE PROCESS
Typically, the TARC hiring process takes between five and ten business days, depending on the position. The process is fairly easy and straightforward.
Submit your application by clicking the link next to the position that interests you.
TARC will perform a background check.
An interview will take place. This interview can be in person or virtual.
Screening – All TARC employee must submit to a drug screening before an offer of employment can be made. Depending on the position, candidates may also be required to have a physical and Tuberculosis test as mandated by the Department of Transportation. All testing is free for the candidate
Offer of Employment.
Training – Coach Operators and mechanics receive formal training typically lasting for seven weeks. Employees going through training are paid at the same rate as coach operators' and mechanics' starting pay. Benefits begin the first day of the month after training begins.