Doing Business with TARC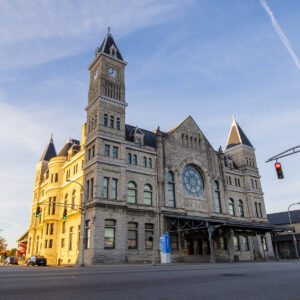 TARC works to provide public transportation in an efficient and effective manner at the lowest possible cost. TARC′s procurement procedures are designed to help achieve that goal.

The Department of Procurement is responsible for procuring all goods and services on behalf of the TARC. TARC seeks to do business with a variety of experienced, diverse, and responsible firms utilizing an open, transparent, and competitive process, incorporating best industry practices that promote accountability and efficiency in our procurement processes.
Procurement Overview
The Department of Procurement is responsible for sourcing, negotiating, contracting and purchasing all goods, maintenance inventory items, consultant and professional services, and construction projects on behalf of TARC.
Our staff of Procurement and Contract Administrators (PCAs) are responsible for all procurement phases, contracting and purchasing activities, and serve as the primary point of contact for primary contractors, vendors and suppliers.
As the primary point of contact, the PCA is responsible for accomplishing the following objectives:
Solicit the participation of all qualified and responsible contractors, vendors, and suppliers in the procurement process;
Conduct pre-bid meetings to discuss and clarify solicitation requirements;
Perform cost and pricing market analysis
Negotiate contract terms and conditions;
Resolve contractual difference and issue amendment; and
To obtain maximum value for each dollar expended, considering the factors of price.
This additional menu items in this section contain information designed to help you sell your goods and services to TARC. We are interested in any comments you may have about these procedures to aid in our constant effort to improve our procurement function.
For additional information, please contact the department at Procurement@ridetarc.org.
Note: Vehicle, Furniture and Equipment Surplus
From time to time, TARC has surplus items in its inventory that become available for purchase. TARC makes these items available through the GovDeals' online marketplace, which provides services to government, educational and related entities for the sale of surplus assets to members of the public who are registered account owners. Items can range from office supplies to transportation parts and more.

Bids & Contracts
Please take a moment and familiarize yourself with the TARC procurement policies and practices. We hope the information you find here will be of use to you and/or your organization, and may promote a long and mutually beneficial business relationship with TARC. Please contact us if you have any questions about the information provided or the procurement process.
All of TARC's goods and services are obtained through micro and small purchases as well as competitive bidding. It is the duty and responsibility of the procurement director and department to act as TARC′s authorized purchasing agent.
TARC buys vehicle and building maintenance parts, supplies, equipment, professional and other services required to maintain the fleet and related equipment, as well as needed goods and services for TARC's fixed facilities and administrative offices.
Goods and/or services valued under $3,000 fall under the micro-purchase procurement and are exempt from TARC's procurement requirements of obtain competitive quotes or sole source requirements
Goods and/or services valued from $3,000 to $35,000 may be purchased from the lowest and best of three quotations obtained in writing.
Goods and/or services valued more than $35,000 are purchased through a competitive sealed bid process. Vendors are notified of TARC's intent to obtain bids through a variety of means including, but not limited to, direct emails to TARC's current vendor lists and online advertisements.
IMPORTANT NOTE: In order to receive email notifications of opening bids, you must be registered as a current vendor in the Bonfire system. Registration in this system is free.
Please contact the procurement department with all questions and inquiries at procurement@ridetarc.org.
IMPORTANT LINKS
Supplier Diversity & DBEs
Kentucky Transportation Cabinet Unified Certification Program
Understanding that diversity is part of our culture and inclusion has never been more important, TARC is committed to utilizing Disadvantaged Business Enterprises (DBEs) and, small, minority- and women-owned businesses (SMWBEs) in all our procurement and contracting. The overall DBE goal for years, 2022, 2023, and 2024 is 10.04 percent.
To that end, TARC is committed to providing suppliers and vendors opportunities to receive technical assistance and supplier training, develop partnerships with prime contractors in their industries to provide community benefits that pays forward directly to our local community, and compete successfully for TARC contracts and other procurement opportunities.
The TARC Procurement Department is responsible for fulfilling the requirements of the Federal DBE program when projects are funded with Federal Transit Authority (FTA) dollars or an Aspirational SMWBE program for contracts and projects utilizing non-federal (local or state) funding sources.
To view the Kentucky Transportation Cabinet Certified DBE Directory, click here.
Our goal and commitment
Pursuant to Title 49 CFR Part 26, TARC has establish an overall DBE participation goal for federally funded contracts of 11 percent for funding years 2020-2022. This includes a goal of four percent for minority-owned DBEs, with minority being defined as federally protected businesses owned, operated and controlled by individuals who are African-Americans, Asian-Indian Americans, Asian-Pacific Americans, Hispanic or Latino Americans and Native Americans. The TARC Procurement Office is committed to:
Providing support by producing a level playing field for subcontractors, suppliers and vendors to participate through strategic development, outreach and utilization efforts;
Assisting in determining eligibility of potential vendors who may qualify as participants as DBE;
Helping new vendors with the registration and referral of its DBE application to the Kentucky Transportation Cabinet; and
Monitoring and enforcing compliance on federally and locally funded contracts with diversity goals.
For more information on certification and DBE participation, contact the TARC Procurement Department at procurement@ridetarc.org.
Unsolicited Innovation Proposals
Unsolicited Conceptual Innovation Proposals
TARC encourages entrepreneurs, innovators, civic hackers, programmers, any private sector business, labor unions, municipalities, academic institutions, philanthropic foundations and nonprofit organizations to share ideas and concepts through our unsolicited proposal process.
An unsolicited proposal is a written offer submitted to TARC for the purpose of developing a partnership or concept which is not in response to a current procurement solicitation. It is a concept that uses innovative but efficient solutions to offer added value, lower operating expenses and/or avoid capital expenses to the transportation system.
An unsolicited proposal is not an offer or alternative for property or services that TARC is currently procuring through competitive methods. An unsolicited proposal is not a policy or operating procedure recommendation.
Characteristically, unsolicited proposals should:
Be innovative and practical;
Have the potential to significantly reduce TARC operating and/or capital expenses for a service TARC currently provides, or for a new service;
Be independently originated and developed by the proposer;
Be prepared without TARC's supervision, endorsement, direction or direct involvement; and
Contain sufficient details regarding the benefits for TARC.
Requirement for Submissions
Any vendor who submits a proposal should have the technical and financial resources to provide the services proposed or be able to contract with TARC and/or serve as a partner in a contract which may result from the adoption of the proposal.
Please note: Remember to download and save this form before completing it. Opening and completing the form in your web browser may result in an error message.