MyTARC Card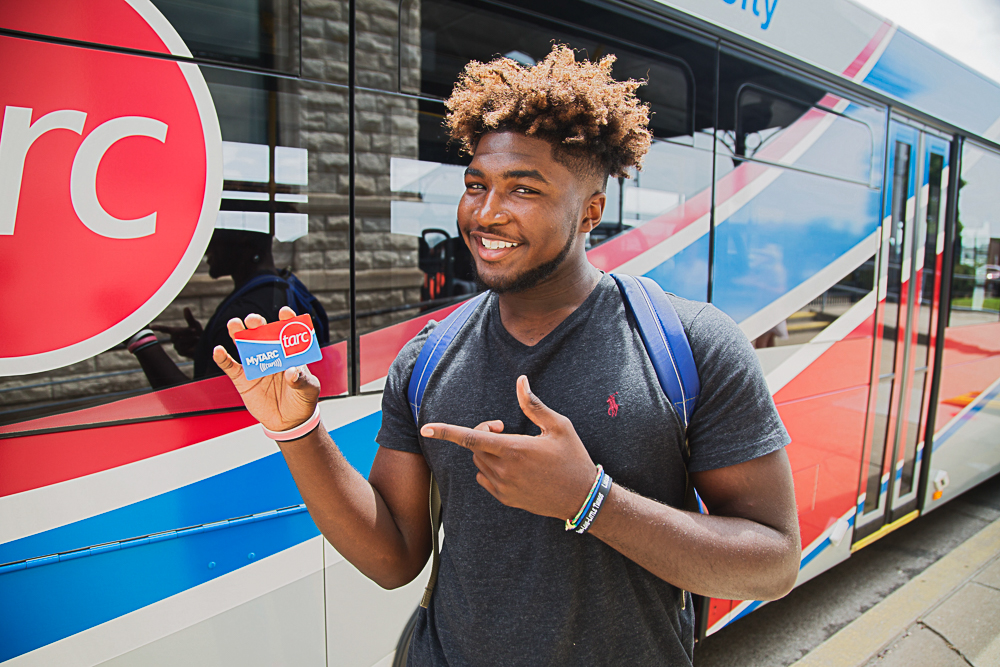 Save time and money with each tap of your MyTARC card!
The MyTARC card is an easy, convenient way to ride TARC and save money on express and local fare.
MyTARC cards can be loaded with stored value to pay for a single ride on TARC. Each time you use the card a $0.25 discount versus using cash is applied.
How do I purchase a MyTARC Card?
MyTARC cards have an initial fee of $5.00 and can be purchased at TARC and reloaded at the following locations:
Online at mytarc.ridetarc.org (allow a minimum of 5-7 business days for delivery)
TARC Customer Service kiosk at 1000 W. Broadway, Louisville, KY, Monday through Friday, 8:00 a.m. to 5:00 p.m.
TARC Customer Service kiosk at the Nia Center, 2900 W. Broadway, Louisville, KY, Monday through Friday, 8:00 a.m. to 4:30 p.m.
How do I register a MyTARC Card?
Go to mytarc.ridetarc.org.
Click the blue SIGN UP button.
Complete the NEW CUSTOMER information.
On the next screen, click SIGN IN.
Click REGISTER AN EXISTING CARD.
Enter the MyTARC card # and CVV (the 3 numbers on the back of the card), then click REGISTER CARD.
How do I use MyTARC?
Tap your MyTARC card on the fare box. Your fare will automatically be deducted and the card balance will be displayed on the screen. Each time you tap, the fare box will display your remaining balance and digital-transfer timestamp.
A MyTARC card may only be used by one person per boarding. Up to eight cards may be registered to a single MyTARC account online, however, each person must possess their own MyTARC card.
To reload your card on a bus:
Tell the driver that you need to reload.
Tap your MyTARC card on the fare box where indicated.
Insert money (up to $20).
Push the circular ACCEPT button.
Tap your card again. Look for the green RECHARGE line across the top of the screen, which indicates that your fare has been accepted.
Tap your card once again to pay your fare.
Having issues reloading?
Contact TARC customer service at (502) 585-1234, have your MyTARC card ready, and note:

Bus number
Bus route
Time of issue
How do transfers work?
MyTARC card users receive a digital transfer good for unlimited use within two hours of your initial boarding. Payment will not be deducted from your MyTARC card account for additional boardings during this timeframe. Transfers are not available when paying with cash.
What are my fare options?
Stored Value (Adult one-way): Load an amount on your MyTARC card — unlimited reloading with a maximum of $50 online or in-person. Up to $20 of stored value can be added at the fare box on the bus. Local fare ($1.50) will be deducted each time you tap.
Daily, Weekly, and Monthly Passes: Card holders can purchase local passes including a 7-day local pass ($15), and a 24-hour local pass ($3.50), Passes purchased on your MyTARC card are activated after the first use, and the fare box will validate the pass automatically.
Can I get reduced fares with MyTARC Card?
Yes, reduced fares are available for people aged 65 and older, students aged 6-17, Medicare card holders, and individuals with disabilities. MyTARC reduced fare cards require a photo ID to verify eligibility. Reduced fare MyTARC cards have an initial fee of $5.00.
MyTARC card care tips
Do not cut, scratch, bend or puncture your card. This will damage your card, resulting in the need for a replacement. If your card is lost, stolen, or damaged, you will need to purchase a new card for a fee of $5.00.