Public Meetings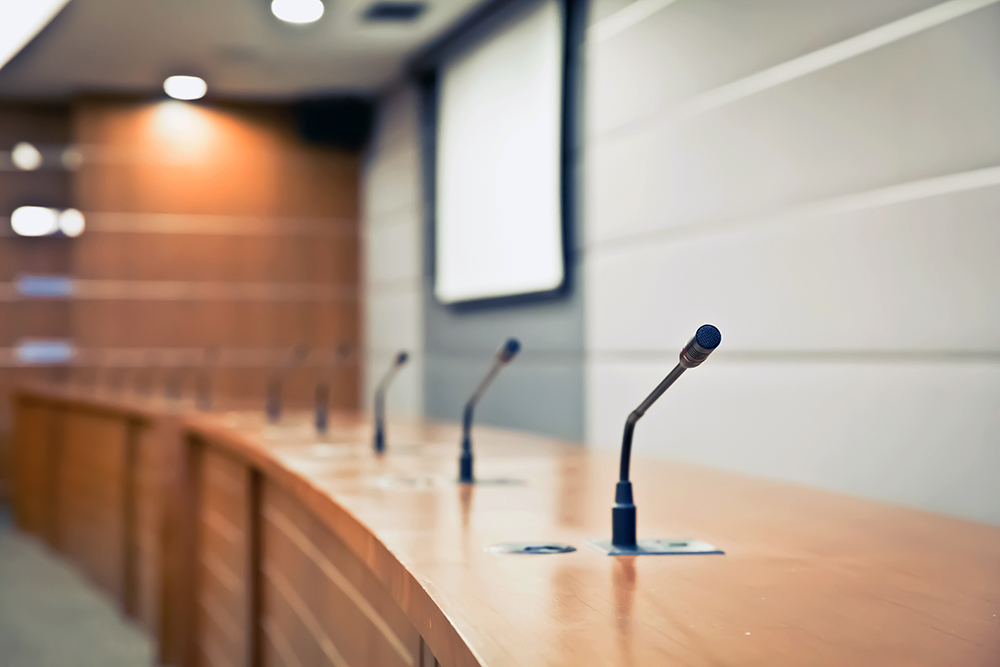 Upcoming Meetings
Due to the COVID-19 pandemic, state of emergency and Governor Beshear's Executive Orders regarding social distancing, scheduled TARC meetings will be held via video-teleconference pursuant to Senate 150 (as signed by the Governor on March 30, 2020) and Attorney General Opinion 20-05, and in accordance with KRS 61.826, because it was not feasible to offer a primary physical location for these meetings. Pursuant to the Americans with Disabilities Act, persons with a disability may request a reasonable accommodation for assistance with meetings or meeting materials, please contact Ashlie Woods at 502.561.5108. Requests made as early as possible will allow time to arrange accommodation.
Board of Directors Meetings broadcast via Facebook Live at: facebook.com/ridetarc
Audience and/or TARC staff can join via Facebook Live; public comments will be accepted via Facebook Messenger, or by calling 502-585-1234.
Current Scheduled Meetings for Calendar Year 2022
Please click below to access meeting packets, and for information on how to join each meeting (material made available before each meeting date).
JANUARY 2022
TARC Board of Directors Meeting, January 25, 1:30 p.m.
Meeting Instructions /Packet
TARC Finance Sub-Committee Meeting, January 18, 1:30 p.m.
Meeting Instructions /Packet
TARC Strategic Planning Sub-Committee Meeting, January 19, 1:30 p.m.
Meeting Instructions /Packet
FEBRUARY 2022
TARC Board of Directors Meeting, February 22, 1:30 PM
Meeting Instructions /Packet
TARC Finance Sub-Committee Meeting, February 15, 1:30 PM
Meeting Instructions /Packet
TARC Customer Service Sub-Committee Meeting, February 16, 1:30 PM
Meeting Instructions /Packet
MARCH 2022
TARC Board of Directors Meeting, March 22, 1:30 PM
Meeting Instructions /Packet
TARC Finance Sub-Committee Meeting, March 15, 1:30 PM
Meeting Instructions /Packet
TARC Human Resources Sub-Committee Meeting, March 16, 1:30 PM
Meeting Instructions /Packet
APRIL 2022
TARC Board of Directors Meeting, April 26, 1:30 PM
Meeting Instructions /Packet
TARC Finance Sub-Committee Meeting, April 19, 1:30 PM
Meeting Instructions /Packet
TARC Strategic Planning Meeting, April 20, 1:30 PM
Meeting Instructions /Packet
MAY 2022
TARC Board of Directors Meeting, May 24, 1:30 PM
Meeting Instructions /Packet
TARC Finance Sub-Committee Meeting, May 17, 1:30 PM
Meeting Instructions /Packet
TARC Customer Service Sub-Committee Meeting, May 18, 1:30 PM
Meeting Instructions /Packet
JUNE 2022
TARC Board of Directors Meeting, June 21, 1:30 PM
Meeting Instructions /Packet
TARC Finance Sub-Committee Meeting, June 14, 1:30 PM
Meeting Instructions /Packet
TARC Human Resources Sub-Committee Meeting, June 15, 1:30 PM
Meeting Instructions /Packet
JULY 2022
TARC Board of Directors Meeting, July 26, 1:30 PM
Meeting Instructions /Packet
TARC Finance Sub-Committee Meeting, July 19, 1:30 PM
Meeting Instructions /Packet
TARC Strategic Planning Meeting, July 20, 1:30 PM
Meeting Instructions /Packet
AUGUST 2022
TARC Board of Directors Meeting, August 23, 1:30 PM
Meeting Instructions /Packet
TARC Finance Sub-Committee Meeting, August 16, 1:30 PM
Meeting Instructions /Packet
TARC Customer Service Sub-Committee Meeting, August 17, 1:30 PM
Meeting Instructions
SEPTEMBER 2022
TARC Board of Directors Meeting, September 27, 1:30 PM
Meeting Instructions /Packet
TARC Human Resources Sub-Committee Meeting, September 21, 1:30 PM
Meeting Instructions /Packet
TARC Finance Sub-Committee Meeting, September 20, 1:30 PM
Meeting Instructions /Packet
OCTOBER 2022
TARC Board of Directors Meeting, October 25, 1:30 PM
Meeting Instructions /Packet
TARC Finance Sub-Committee Meeting, October 18, 1:30 PM
Meeting Instructions /Packet
TARC Strategic Planning Meeting, October 19, 1:30 PM
Meeting Instructions /Packet
NOVEMBER 2022
TARC Board of Directors Meeting, November 15, 1:30 PM
Meeting Instructions /Packet
TARC Finance Sub-Committee Meeting, November 8, 1:30 PM
Meeting Instructions /Packet
TARC Customer Service Sub-Committee Meeting, November 9, 1:30 PM
Meeting Instructions /Packet
DECEMBER 2022
TARC Board of Directors Meeting, December 13, 1:30 PM
Meeting Instructions /Packet
TARC Finance Sub-Committee Meeting, December 6, 1:30 PM
Meeting Instructions /Packet
TARC Human Resources Sub-Committee Meeting, December 7, 1:30 PM
Meeting Instructions /Packet