Paratransit Services – TARC 3
Click the TARC3 Paratransit forms that meet your needs. These forms are downloadable PDFs:
TARC3 Recertification Application Form
TARC3 & Accessibility Brochure
TARC3 Subscription Application Form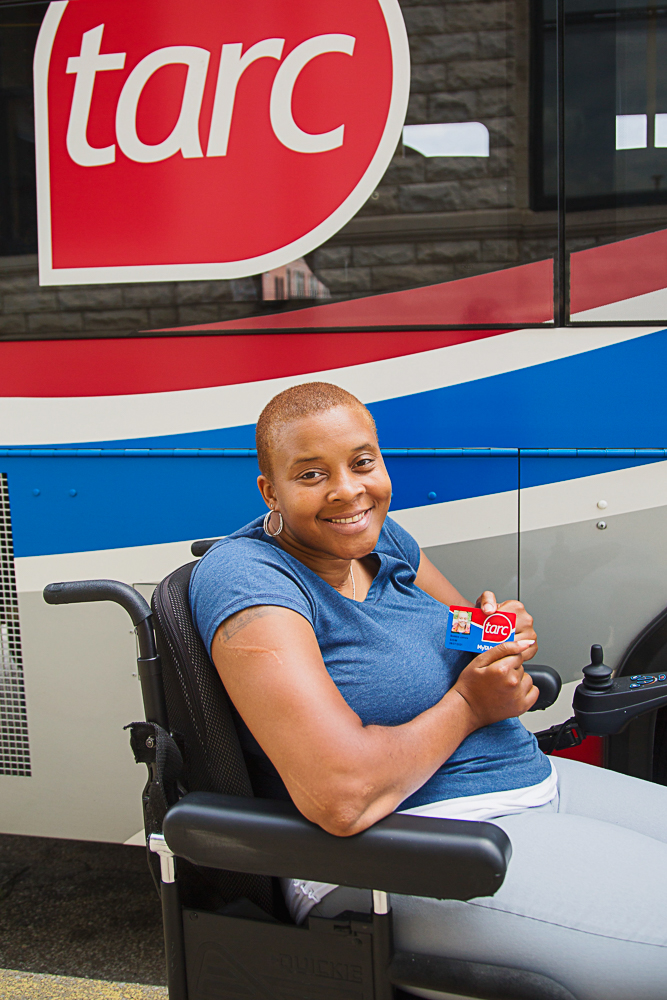 TARC3 ADA Paratransit Service
The ADA states that TARC's regular bus service should be the primary means of public transportation for everyone, including people with disabilities. Under ADA, TARC3 will serve those persons who do not have the functional capability to ride TARC's regular buses.
Important Phone Numbers
TARC3 Eligibility Office: (502) 213.3217
Trip Reservations: (502) 560-0333
Trip Cancellations: (502) 560-0322
TTY: (502) 213-3240
Comments/Complaints: (502) 585-1234
Customer service: (502) 585-1234
TARC operates TARC3 to coordinate a variety of demand-response programs, including ADA paratransit. TARC3 serves different customer groups under different contracts, each with unique eligibility requirements and rules.
TARC3 is a door-to-door shared ride service using small buses, vans and taxis. A paratransit vehicle will travel to any metro destination as long as it is within ¾ mile of a regular non-express TARC bus route during comparable days and times.
Since TARC3 is a shared-ride service, you will travel with other riders. Most trips aren't direct and may take up to 80 minutes. A TARC3 driver will escort you 'door-to-door' on both ends of your trip. The fare one-way is $3, round trip is $6.
Eligibility for ADA Paratransit
Having a disability does not necessarily qualify you for ADA paratransit. There is an application process to determine whether your individual disability prevents you from being able to travel on a regular bus.
Paratransit eligibility is based on TARC staff assessment. All information that is supplied by you and your doctor is reviewed to determine your eligibility. Additional information is gathered by phone or in a personal interview. Sometimes a free functional assessment is conducted at Spalding University's School of Occupational Therapy. The process helps ensure that ADA paratransit service is provided for individuals who meet ADA regulations.
Applying for TARC3 ADA Paratransit Service
You can call (502) 213.3217 or visit the TARC3 office at Union Station, 1000 W. Broadway, Monday through Friday, 8 a.m. to 4:30 p.m. to discuss your travel needs.
If you are unable to ride the bus or do not have transportation, TARC will mail an ADA Paratransit application packet specifically for your particular disability. Applications are available for download.
Paratransit for Visitors
TARC3 will provide Paratransit service for visitors who are eligible for Paratransit service in their home city. Documentation from their home city will be required for service. If unable to provide documentation of eligibility, provide phone number or email contact for the agency that has previously granted eligibility and TARC3 will contact the home agency. Once eligibility has been confirmed, eligibility for TARC3 service will ensue.
Visitors can contact the TARC3 Eligibility Office at (502) 213-3217 to request Paratransit service. Upon confirmation, individuals wishing to use TARC's Paratransit service may do so for any combination of 21 days during any 365-day period beginning with the visitor's first use of the service.
TARC3 Automated Phone System
Quickly access ride information and cancel trips at any time.
Getting started:
1. Dial 560-0333 and then press "1" for Main Menu.
2. Enter ID# and password (initial password is your 4 digit birth year). If you do not have your ID#, ask a Customer Service Representative (CSR).
3. Choose the feature you want to use:
Press 1 – "Trip confirmation" will provide the same estimated pick-up time as "Where's My Ride?" Follow the prompts to access specific trip information.
Press 2 – "Cancel trips" will allow you to cancel one trip or all the trips in a date range and you can obtain a confirmation number. For instance, if you booked a round trip, you can cancel both or just one leg of the trip. The system will ask you to confirm a cancellation to prevent an accidental cancellation.
Press 4 – "Change password" will allow you to set your preferred, private password.
Press 0 – Will connect you to a Customer Service Representative.
Automated phone system instructions are also available from the TARC3 Eligibility Office (502-213-3217).