Bikes on Board
TARC's Bikes-On-Board program is a great way to get around Louisville.
All TARC buses are bike rack-equipped (except electric buses). Just learn the Rules of the Rack, load your bike on a bus, and you'll be on your way.
Our bike racks will accommodate most bicycles, with the exception of tandems, recumbents, mopeds, scooters and tricycles. Each bike rack can carry up to three (3) bikes.
How to Load Bikes
Remove any loose items that could fall off the bike (tire pump, water bottle, etc.)
Alert the driver to let them know your bike should be loaded.
Load (and unload) bike from curbside, never from the traffic lane.
Squeeze the handle and pull down to lower the rack.
Lift the bike onto the rack. Use the rack position nearest the bus, handlebars towards the left side of the bus.
Pull the support arm out and up over the top of your bike's front tire – not the frame or fender.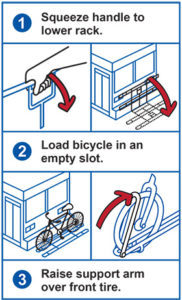 How to Unload Bikes
Tell the driver that you are going to unload your bike as you exit the front of the bus. Pull the support arm off the front of the bus.
If there are no other bikes on the rack, fold the bike rack up to the front of the bus by pulling up on the handle and lifting the rack up and toward the front of the bus.
The driver cannot see racks without a bike on it.
For safety reasons, the driver is not able to get off the bus.
Bikes are mounted at the rider's own risk. TARC is not responsible for the theft or damage of bikes while on the bus rack.
Want to advertise with us? Learn more here.