News
TARC and Humana offer fare-free service for Thunder Over Louisville, designate five Post-Thunder stops to help passengers get home
April 14, 2023
TARC in partnership with Humana will be offering fare-free service for the full day of Thunder Over Louisville, Saturday, April 22.
In an effort to get people home as quickly as possible, five Post-Thunder Boarding Stops have been designated within downtown Louisville—most within blocks of the waterfront. These stops will be available for passengers to board immediately following the event, and will be the only downtown boarding options (please see the detailed list and map below).
An additional 68 TARC buses will be added to Saturday's service to improve the frequency of buses on the street, and better serve the expected increase of passengers to the event. A shuttle service from Shawnee Park to Union Station will also run throughout the day to accommodate an expected increase of passengers heading downtown.
TARC advises that due to bridge closures for the Thunder Over Louisville event, passengers traveling to and from Southern Indiana be aware that after 8 p.m. buses on the following cross-river routes will not make return trips to Indiana:
#71 (Jeffersonville-Louisville-New Albany), #72 (Clarksville), #73 (West Louisville-River Ridge), and #74 (Chamberlain Ln-River Ridge)
Please note:
Closer to the start of the event, some regular routes may be delayed or detoured due to police barricades and heavy pedestrian traffic. Please plan your trip ahead of time, and know your Post-Thunder Boarding Stop location before heading to the event.
Due to the fare-free service being offered, passengers will not be able to load fare to their MyTARC cards on the bus.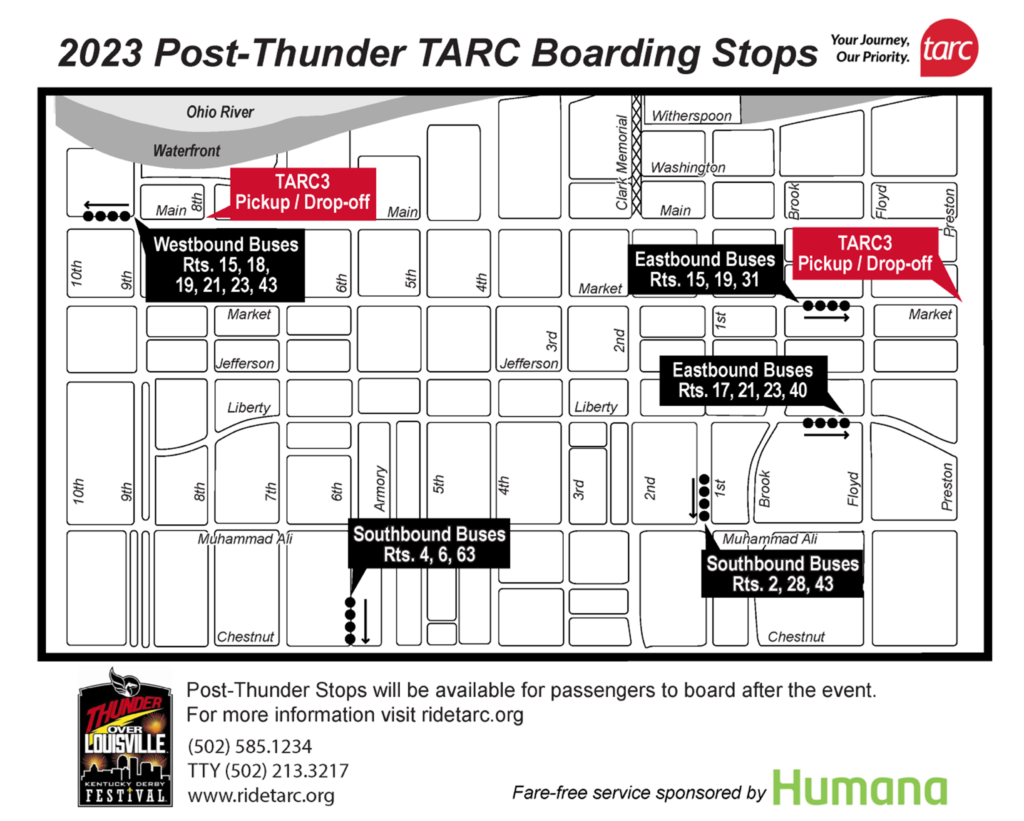 Post-Thunder TARC Boarding Stop Locations
Routes going Eastbound from Downtown
Boarding on Market, near Floyd
#15 – Market Street (to La Grange Road)
#19 – Muhammad Ali (to Oxmoor and Lyndon)
#31 – Middletown
Boarding on Liberty, near Floyd
#17 – Bardstown Road (to Fern Creek and Sebree)
#21 – Chestnut (to Bashford Avenue)
#23 – Broadway (to Jeffersontown and Breckenridge Plaza)
#40 – Taylorsville Road
Routes going Westbound from Downtown
Boarding on Main, near 9th
#15 – Market Street (to Shawnee Park)
#18 – Preston (to Valley Station)
#19 – Muhammad Ali (to Park Duvall and Rockford Lane)
#21 – Chestnut (to Shawnee Park)
#23 – Broadway (to Shawnee Park)
#43 – Portland/Poplar Level (to 32nd & Portland Loop)
Routes going Southbound from Downtown
Boarding on 6th, near Chestnut
#4 – Fourth Street (to Iroquois Park and Southland Park)
#6 – Sixth Street (via Central to Auburndale)
#63 – Crums Lane (to West Pages Lane)
Boarding on 1st, near Muhammad Ali
#2 – Second Street (to Airport and UPS)
#28 – Preston (to Okolona – Outer Loop Plaza)
#43 – Portland/Poplar Level (to Fern Creek)