Grants
,
News
TARC receives $7.4 million FTA grant for electric buses, infrastructure and training
August 17, 2022
TARC has been awarded a competitive grant to purchase zero-emission buses and charging infrastructure that will fully electrify a corridor that connects multiple minority and low-income neighborhoods with employment centers.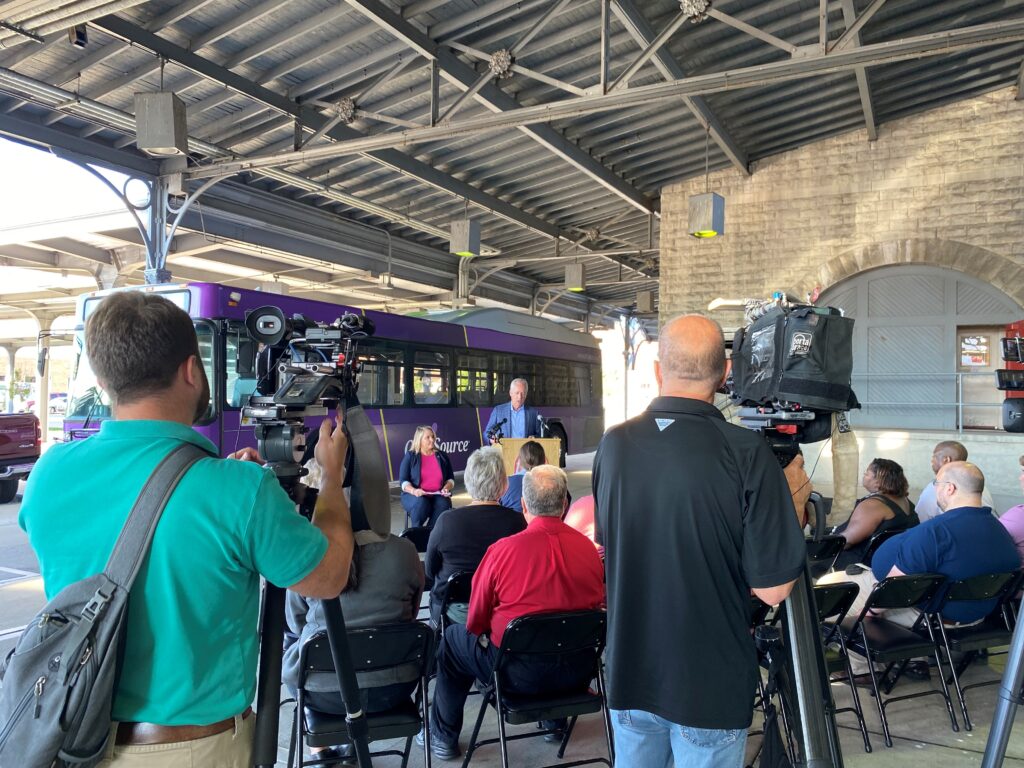 The Federal Transit Administration's FY2022 Low or No Emission and/or Buses and Bus Facilities grant, announced yesterday, awarded $7.4 million TARC to purchase six extended-range battery electric vehicles, upgrade its existing electrical service, and install the necessary charging infrastructure. The award also makes a significant investment in workforce development around fleet electrification, with $500,000 in funds allocated for training new and current mechanics to service electric buses and charging equipment.
"This is an exciting announcement – for the many riders in our city and our region who depend on TARC, for our economy and for the overall health of our entire community," said Mayor Greg Fischer. "This project aligns directly with President Joe Biden's priorities – priorities we share – of reducing greenhouse gas emissions, advancing environmental justice, and creating good-paying union jobs."
"After working hard to get the Bipartisan Infrastructure Law to the President's desk to be signed into law, I'm thrilled to see TARC and the City of Louisville win this federal investment to bring more zero-emission buses to our city," said Rep. John Yarmuth (KY-3). "These awards were highly sought after and the grant process was very competitive, so having the Department of Transportation recognize the importance of this project for our city is a deserved recognition of the great work that's happening here in Louisville. I thank Secretary Buttigieg for selecting our city as we work to connect our communities in a safer, more equitable, and environmentally-friendly way."
Deploying battery electric buses in place of fossil fuel vehicles will reduce energy consumption and harmful emissions, including greenhouse gases and particulates. Battery electric buses are more efficient and consume less energy per mile than buses that use other common propulsion technologies, such as gas, diesel, and compressed natural gas.
"With funding from the FTA, TARC will be able to add the needed additional electric capacity, as well as the infrastructure required to charge up to 20 battery electric buses," said Carrie Butler, Executive Director of TARC. "That will put TARC well along the path to reducing emissions overall, and especially along those routes that serve the historically disadvantaged neighborhoods where health outcomes are much worse than for the Louisville community as a whole."