News
TARC seeks students for annual Design-a-Bus contest
December 15, 2021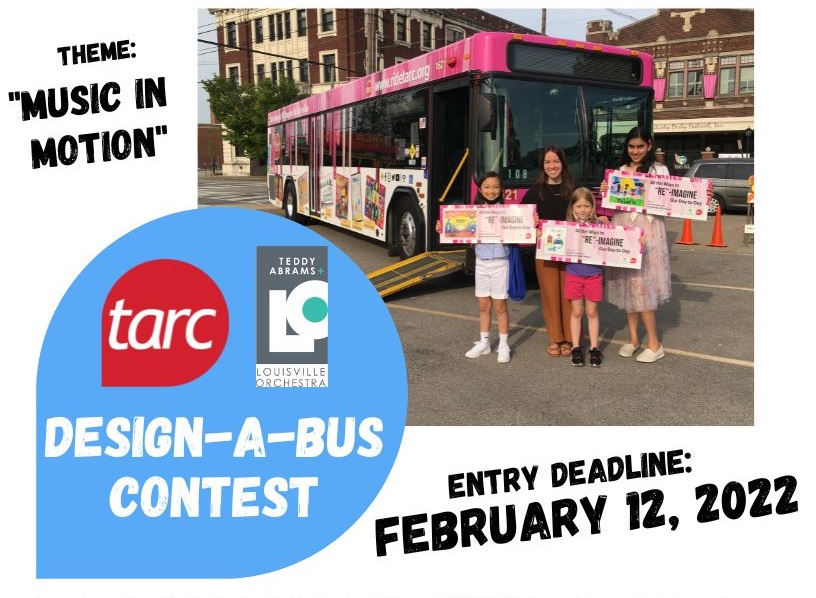 In partnership with the Louisville Orchestra, this year's art theme is "Music in Motion"
TARC is celebrating its 22nd annual Design-a-Bus contest with a focus on music, in partnership with the Louisville Orchestra.
Local students are invited to submit artwork focused on the theme of "Music in Motion." Artists are encouraged to think about the role music plays in their everyday lives or how it inspires them to achieve a personal goal — such as learning to play an instrument, playing a sport, or serving their community.
The winning submissions by students will be featured on a bus that will travel in the 2022 Pegasus Parade during the Kentucky Derby Festival and on TARC routes throughout the metro region following Derby festivities.

The Design-a-Bus contest is open to all elementary, middle, and high school students in Jefferson, Oldham and Bullitt counties in Kentucky, and Floyd and Clark counties in Southern Indiana. Twelve winners will be chosen to have their artwork displayed on a TARC bus; winners and their adult guests will be invited to ride on the bus featuring the winning artwork in the 2022 Pegasus Parade.
Entries should be in marker, crayon, or paint on 11" by 17" white paper, or created digitally with the same dimensions, and submitted as a JPG or PDF file. Entries will be judged on visual appeal, creativity, originality, and message. All artwork is to be produced by the student only.
This year's entry deadline is Friday, February 12, 2022. Please submit artwork and complete the entry form online at www.ridetarc.org/design-a-bus-contest. For questions or additional information email designabus@ridetarc.org.
"As a huge advocate for public transportation — I've managed to avoid holding a driver's license my whole life — I'm thrilled about our collaboration with TARC," said Teddy Abrams, conductor of the Louisville Orchestra. "The passionate and devoted team at TARC has been fantastic to work with, and we are very excited about bringing musical creativity to the super fun Design-a-Bus contest this year. I can't wait to see what the kids come up with, and I know they'll listen to the world around them with open ears for inspiration!"
"Design-a-Bus is a wonderful opportunity to get young people in our community excited about public transit and a local treasure like the Louisville Orchestra," Carrie Butler, Executive Director of TARC. "Our employees look forward to seeing the hundreds of submissions and selecting the winners, and showcasing the talents of our city's young artists."
About the LO
The Louisville Orchestra performs unique and adventurous programs to capture the hearts and imaginations of audiences through music. Offering exciting new commissions, large-scale repertoire in creative formats, beloved traditional masterpieces, and a diversity of popular music, the LO entertains, inspires, and celebrates the exceptional talents of the community while building on a distinctive historic legacy. Under the leadership of Music Director Teddy Abrams, the Louisville Orchestra performs in more than 120 full orchestra and ensemble concerts annually presenting classical, pops, and educational programs throughout the Louisville Metro.
About TARC
TARC, the Transit Authority of River City, delivers transportation services to the Greater Louisville community. With nearly 50 years of safe, reliable, and accessible service in the region, TARC and our team of 700 employees and contractors connect residents and visitors to the region with a diverse fleet operating across 30 routes in Greater Louisville and Southern Indiana. Learn more at ridetarc.org.